BMW X7 vs Mercedes-Benz GLS

It's no surprise when you think of luxury SUVs that German engineering comes to mind. These vehicles are built with premium features and held to the highest standards. The 2020 BMW X7 and the 2020 Mercedes-Benz GLS are no exceptions.
Since both offer top-tier features to aid you in your Tampa and South Tampa, Florida, travels, we here at Reeves BMW Tampa have created this BMW X7 vs. Mercedes-Benz GLS comparison. After reading, you'll know which of these two international superstars is right for your Brandon and Wesley Chapel travels.
---
Powerful Performance Capabilities

When you drive a luxury vehicle, you'll have access to several premium amenities. A powerful performance is one of them. Still, as you'll see when comparing the most powerful configurations of the BMW X7 vs. Mercedes-Benz GLS, not all luxury engines are created equally.
BMW X7 vs Mercedes-Benz GLS Optional Engine Specs

Vehicle

X7

GLS

Engine

4.4L BMW M Performance TwinPower Turbo V8

4.0L V8 turbo engine with

EQ Boost

Horsepower

523 HP

483 HP

Acceleration (0 to 60 MPH)

4.5 seconds

5.2 seconds
When you want to fully experience the powerful capabilities of German engineering, you'll only get that hair-raising thrill with the BMW X7.
Curious to learn more? Check out our BMW X7 vs. Cadillac Escalade review!
---
BMW X7 vs Mercedes-Benz GLS: Sky's the Limit Interior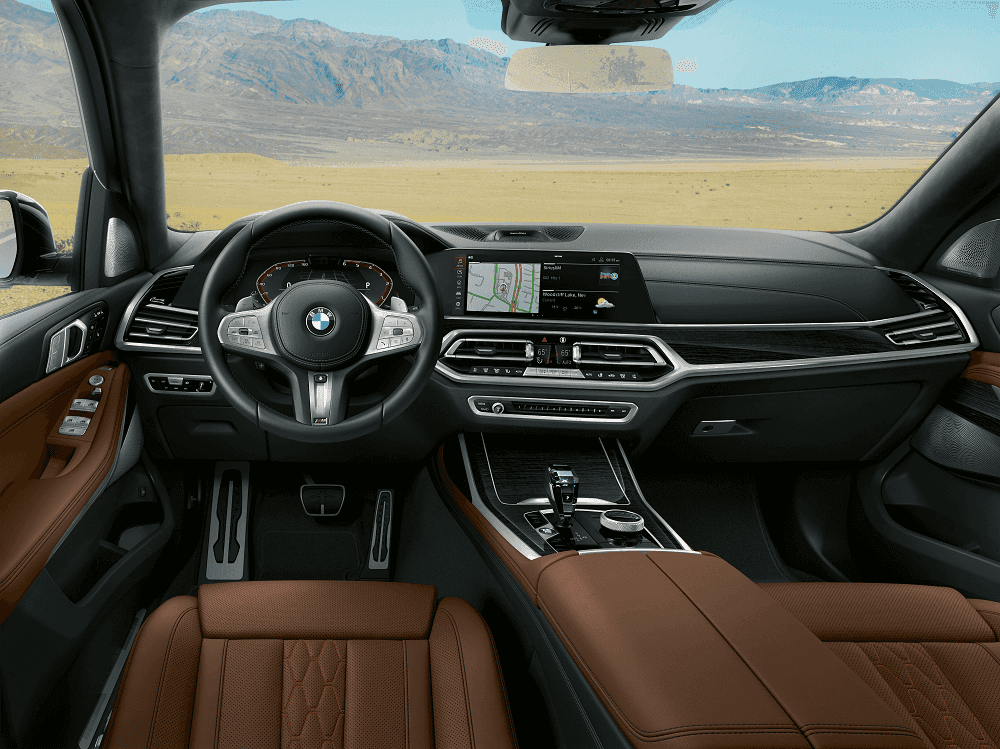 Of course, one of the most well-known amenities of driving a luxury SUV is the premium interior it brings with it. The moment you step foot inside either the X7 or the GLS, you'll be transported to a world of tranquil relaxation.
This is possible thanks to features like standard heated front seats, optional ventilated seat features, and available massage function.
While both vehicles share these features, the BMW X7 has additional comfort features you won't find with the Mercedes-Benz GLS, like the standard 3-panel Panoramic Moonroof with optional Panoramic Sky Lounge LED Roof.
This glass roof makes your already-spacious cabin feel larger than life. When coupled with the Sky Lounge feature, you can set your roof to a warm orange to bring in some sunlight on cloudy days or change it to a cool tone to help you relax.
Another standard feature with the BMW X7 that's only found with the Mercedes-Benz GLS after an optional upgrade is the automatic 4-zone climate control system. This allows you, your front-seat passenger, and your rear-seat passengers to independently set and adjust your climate settings throughout your commute without ever affecting one another's settings.
With the Mercedes-Benz GLS, your SUV only comes standard with a dual-zone automatic climate control system that allows you and your front-seat passenger to make these independent adjustments.
Learn more in our BMW X7 vs. Lexus LX review. Click now!
---
BMW X7 vs Mercedes-Benz GLS: Which Will You Choose?
When you're torn between the exquisite German engineering of the 2020 X7 and the 2020 GLS, you may find it hard to pick just one. Then again, after reading our BMW X7 vs. Mercedes-Benz GLS review, it's clear the X7 is the better option for your Tampa and South Tampa travels.
To learn more about this vehicle, look no further than our dealership. Here, our BMW experts will walk you through all the features of the X7 and show you how it will surely change—for the better—the way you drive around Brandon and Wesley Chapel, Florida. Don't wait any longer. Visit us at Reeves BMW Tampa today!